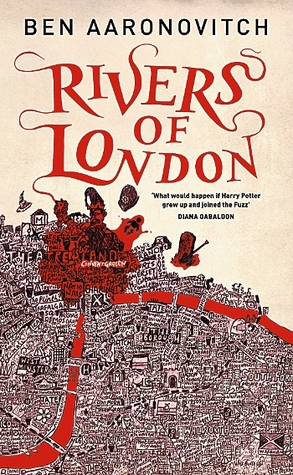 I'll be honest, I didn't expect to like this book. It's been on my radar for a few years now and for some reason, as I don't usually like crime fiction, I avoided this novel. However, as I am attending the Gollancz Festival in a few weeks, I have recently been looking out for books by the attending authors in local charity shops and I found this one relatively cheap so thought I'd give it a go.
With the perfect blend of crime and fantasy, Ben Aaronovitch builds an alternative London where magic exists but the locations and people are utterly realistic. Though the crimes themselves were gruesome and difficult to read (at least for me) at points, the fantastical elements disconnected me enough from what was going on and I really enjoyed that about this story. The mystery was intricate and delved into the history of London whilst remaining rooted in the twenty-first century.
I thoroughly enjoyed this book; it is not a great work of literature but it is honestly one of the most enjoyable books that I have read for a long time. It had a similar atmosphere to Neil Gaiman's Neverwhere but was completely addicting, keeping me gripped from the first page. I will definitely be carrying on with the series.
5 out of 5 stars!