Disclaimer: I received this book for review through Waterstones from the publisher in exchange for an honest review.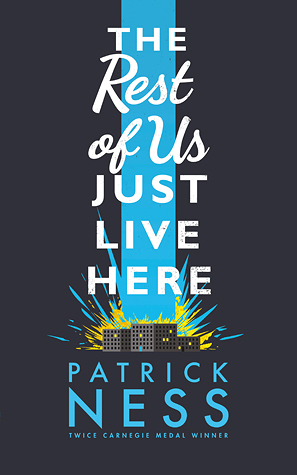 I went into this one knowing nothing about it at all. I've previously read Patrick Ness' The Crane Wife, the Chaos Walking trilogy and A Monster Calls so I familiar with his style and expected something a little strange and that is definitely what I got.
The fantastical elements were a little jarring at first but began to seamlessly blend into the contemporary YA setting after a few chapters.
Patrick Ness dealt with mental illness really well in this novel with the protagonist struggling with anxiety and OCD and his sister recovering from anorexia. Usually I find it uncomfortable to read about these types of topics, especially if they are just dropped into a story for the sake of it, but in this book, the characters were not defined by their illnesses and the portrayal of the illnesses themselves was sensitive and yet brutally honest.
This is by no means a perfect novel, it's a little confusing to start off with and the characters are as out of the loop as the reader is for most of the story, but the writing is brilliant, the romance is not predictable (which was a refreshing change!) and the storyline wasn't what I expected.
Overall I would recommend this book and am looking forward to it being released so that I can see what everyone else thinks!
4 out of 5 stars!