Me Being Me Is Exactly As Insane As You Being You by Todd Hasak-Lowy
This was an amazing book in a unique format that I honestly couldn't put down! This author is definitely one that I'll be looking out for in the future.
Explorer: The Lost Islands by Kazu Kibuishi
This was a disappointing graphic novel short story collection for me. The stories were too short and the artwork, though beautiful overall, didn't make up for the lack of depth.
Why We Broke Up by Daniel Handler
This was a shallow and disappointing book as well for me. The relationship was a very short one before it ended so the whole book didn't really have much credibility for me.
Ghostwritten by David Mitchell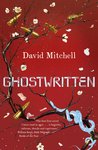 This was a highly addicting book that had amazing depth and intrigue in each section that made up the story. I would highly recommend this to anyone wanting to try David Mitchell's work or a seasoned fan.
Graceling surprised me. I actually liked the romantic relationship and the friendships represented. The villain was so evil I was really rooting for the protagonists throughout!
This was an inspiring and important graphic novel, aimed at a younger audience, discussing the topic of disability and deafness. Highly recommended!
Me and Earl and the Dying Girl by Jesse Andrews
This was a crude yet hilarious YA novel that I flew through so quickly. Can't wait for the film to come out!