This is a brilliant classic that I would recommend for everyone. I thoroughly enjoyed this and will definitely reread in the future when there isn't a pressure to read it for a university deadline!
An Abundance of Katherines by John Green
This was a reread for me that I listened to on audiobook and I absolutely loved it in this format! The story and characters were a lot better than I remembered and I actually think that this may be my favourite of John Green's books now, second only to The Fault in our Stars.
The French Lieutenant's Woman by John Fowles
This was a really great modern classic that I would recommend to everyone. The narration style is unique and the story really captivates the whole duration of the book.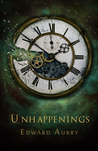 Unhappenings is a really well-executed time travel story by a little-known author who I am so happy to have discovered. I would highly recommend this to any sci-fi fans who like a little bit of romance thrown in.
Simon vs the Homo Sapiens Agenda by Becky Albertalli
This was a really fast-paced and hilarious contemporary novel with homosexual protagonist. This is one of the first LGBT books that I've read that are pretty much happy throughout and I really appreciated that!
This was a surprisingly realistic and interesting book written on a topic that I have never explored before, but in a way that wasn't too graphic. I would highly recommend this book.
This was a great twist on the original Wonderland tales. With a much darker tone and a more contemporary setting, I flew through this book and although I wasn't a fan of the love-triangle, I'm looking forward to reading the second book in the series.