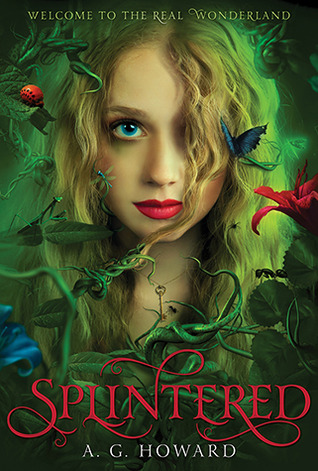 I received this book for Christmas and now I work for Abrams & Chronicle I wanted to read one of the books that I own that are published by them.
I have always had a fascination with Alice in Wonderland so this 'sequel' to the original duology is something that I've been interested in since 2013 when it was released. Now part of a trilogy, I wanted to give this one a go so when I got it for Christmas I made it my aim to read the original classic before reading this. I did read Alice's Adventures in Wonderland a few weeks ago but didn't get around to Through the Looking-Glass before giving into the temptation of this book.
The design is gorgeous; not only is the cover evocative of a darker Wonderland, but the purple text and chapter heading designs really transport the reader into the fantasy realm.
I loved how A. G. Howard twisted all that I previously knew about Wonderland, using iconic images such as the White Rabbit and the Caterpillar and turning them on their head.
The only thing I can outright say that I did not like about this debut novel is the love-triangle. Love-triangles are never something I enjoy reading about; I find that I always side with one love interest over the other straight away and I don't tend to change my mind, meaning that the 'who will she choose' gets really irritating and the female character tends to annoy me with her indecisiveness. This was the case in Splintered. I really like Alyssa as a character throughout the novel apart from when the boys were concerned (I also don't understand why she would ever lean towards Morpheus!).
Overall I really enjoyed this novel and will definitely be picking up the second one, Unhinged. The depth of the characters was amazing to see, with their dark pasts often coming back to haunt them, something that you don't often see in Young Adult fiction. The transformation of Wonderland was a little confusing at points but I loved the darkness of it all. I would definitely recommend this one if you think you can look past the love-triangle.
4 out of 5 stars!