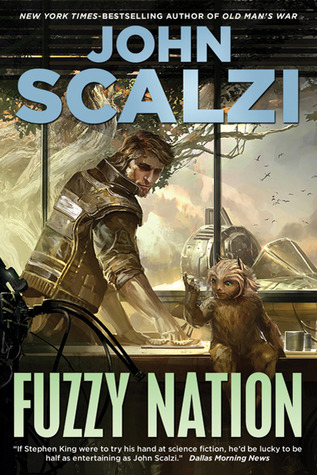 As you may know if you follow me on my blog or Goodreads, I read Little Fuzzy by H. Beam Piper last month, in January 2015. I thoroughly enjoyed that novel and despite some outdated gender roles, I found that it soon became one of my favourite books. The sole reason I read that novel was so that I could more understand John Scalzi's more contemporary retelling of the story, Fuzzy Nation.
I listened to this book in audio format from Audible and I would recommend this format as it is narrated by Wil Wheaton. The narration itself was highly entertaining, the reader performing different voices for each of the characters. However, my problem came with the writing style itself. Scalzi omits any word other than "said" to indicate which character is speaking leading to a lot of repetition in a 'he said then she said' style. This was irritating at first and although I became used to it, I think it did bring me out of the story slightly at points. Variation on this word would have added a lot more emotion to the characters and bettered the story in my opinion.
Having said all that, overall I did enjoy this novel. The story of the Fuzzies is one that I adore, and though I was originally introduced to it by the original creator in Piper, I think Scalzi did a great job of filling in the flaws that Piper had in his 1960s science-fiction classic. The gender roles were much more equal in this society that Scalzi creates and although many of the events that took place were similar to the original, I feel that the whole court scene and the politics of the planet were handled in a much more realistic and emotionally charged way.
4 out of 5 stars!