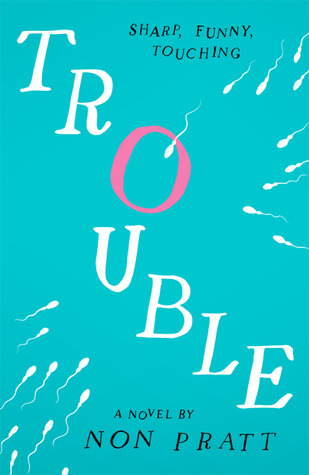 To be honest, I wasn't interested in picking this book up at all until very recently. I am attending the James Dawson, Holly Bourne and Non Pratt so wanted to read Non Pratt's debut novel, Trouble.
When the entire high school finds out that Hannah Shepard is pregnant via her ex-best friend, she has a full-on meltdown in her backyard. The one witness (besides the rest of the world): Aaron Tyler, a transfer student and the only boy who doesn't seem to want to get into Hannah's pants. Confused and scared, Hannah needs someone to be on her side. Wishing to make up for his own past mistakes, Aaron does the unthinkable and offers to pretend to be the father of Hannah's unborn baby. Even more unbelievable, Hannah hears herself saying "yes."
This novel is written in dual perspective and Non Pratt did an amazing job of making the voices of Hannah and Aaron distinct from each other and it was really interesting that we get the immediate reactions from both characters points of view in certain conversations and situations. The two different typefaces that were used really helped to distinguish between the two characters so that even when they were switching in quick succession, it never got confusing. The short chapter made the novel fast-paced and quick to read. There was no point at all where I got bored with what was going on and I think this was particularly helped by the simple, yet brutally honest, writing style. Non Pratt never shied away from the harsher realities of being a teenager, such as sex, drinking, relationships and mental health, and I think that this brought a realism that some YA author miss.
Although I loved the writing style, I found the plot a little predictable and troubling at points. It's pretty obvious who the father of the baby is from the beginning and I felt uncomfortable about that throughout because of the relationship that Hannah and this person shared but also the age difference. The father was 18 and Hannah just 15 so technically she couldn't legally consent, but this is never raised throughout the book. I know some people could look past this and I understand that this is a fiction novel but I just found it a little uncomfortable at points.
Overall, I found Trouble to be an addictive read, I couldn't put it down and read it in about a day, mostly in one sitting. I did have problems with it because some issues weren't raised when I think they should have been, especially given the circumstances of the father of Hannah's baby, but on the whole I really enjoyed this book and found that Aaron's secret was particularly intriguing. I didn't guess what was going on with him at all, up until it was revealed and I really liked how Non Pratt dealt with his situation. I would have liked a few more things tied up but overall I would recommend this book if you are an older YA reader, or adult for that matter, who wants to read an interesting and funny story.