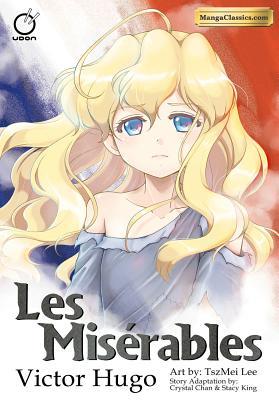 This is a new manga series published by Udon, who are adapting classic novels into manga form, and I received an ebook copy of this through NetGalley.
This was my first experience reading manga and once I got used to reading it in the traditional manga way (from right to left) I found that I really got sucked into the story. The only experience of Les Miserables that I have had previously was seeing the movie adaptation when it came out a few years ago. This manga follows most of the storyline presented in that film, though it does miss some details, but that is to be expected of something that is cut down into mostly images.
I think that the illustrations done by Tszmei Lee seem pretty typical of manga that I have seen examples of but the images did a brilliant job of conveying the emotions of each character throughout so I cannot fault the artwork at all. I would love to see a full colour version of this manga as I think that would really add to the atmosphere of the book but even in black and white, the emotions were portrayed well.
Overall, this manga has made me want to pick up the original novel and also to try more manga so I would definitely recommend it! One thing that has always put me off manga in the past is that it always seems to come in long series whereas these classics adaptations are standalones so that is definitely a plus for me.
This book comes out on 12th August 2014 so be sure to check it out and pre-order!