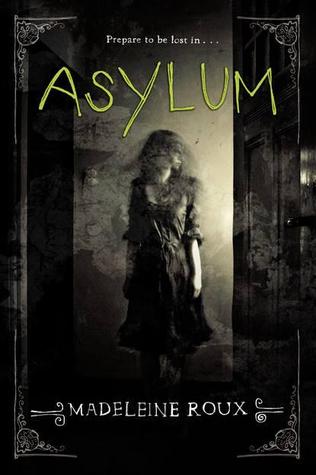 I picked this up on a whim from the library after watching Sue Moro's and Sarah Churchill's reviews. Horror isn't my thing at all, I get so freaked out by books, I am one of those people that then won't leave the room if I've been reading anything remotely scary because there's a small part of me that thinks there's a murderer lurking around, I'm a giant chicken basically! However, I am trying to branch out a bit and after reading The Haunting of Hill House by Shirley Jackson and then The Name of the Star by Maureen Johnson, I thought that if I'm going to read horror I would rather stick with YA books in that genre.
Asylum was a pretty creepy book overall, the first half more so than the second half. The story itself was atmospheric and creepy but the thing that made it scary for me were the images. Photographs spread throughout the novel, shocking you when you turn the page not expecting an image; the photographs really do at to the dark atmosphere of the novel and in the same way that Ransom Riggs uses images to show different aspects in his Miss Peregrine's Home for Peculiar Children series, Madeleine Roux used images to a similar effect in this novel.
Overall I think that the story itself was interesting, bordering on the paranormal, and quite reminiscent of Maureen Johnson's Shades of London series. The feel of a detailed history is abundant in this novel but I felt as though the ending was a little rushed and a bit unbelievable to be honest. Everything seemed to tie up almost too neatly at the end and the last page introduced a tiny cliffhanger, leading to a second book. It felt a little unnecessary and I would have preferred this to be a standalone.
This was definitely a fun read that I sped through in less than 24 hours but there was just something a little too cheesy about the ending for me. I would recommend this book if you're looking for a quick creepy read, and a beautifully designed book, but don't expect to be completely scared by it.