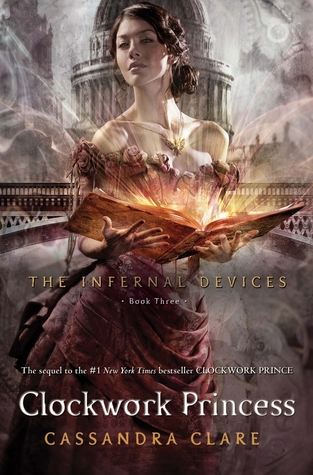 I started reading this at the end of April, straight after reading the first two books in the series within a couple of days, but I didn't finish it until now! This is in no way a reflection on the book, just my own reading mood.
As usual, Cassandra Clare's writing was addicting and made for a fun read. Although the pacing was a little slower throughout the first half of the novel, I found that the second half was extremely fast to get through and the story really picked up in pace.
Obviously I can't really say much about this book as it is the third in a series but I will say that the ending was satisfying, despite not being as 'heartbreaking' as so many other reviewers suggest. I found the epilogue slightly underwhelming to be honest but on the whole, Clockwork Princess was a well-developed end to the Infernal Devices trilogy.
Overall, now I have finished the trilogy, I would definitely recommend it. There were so many aspects of it that just added to the story and made it just a well-rounded and highly developed series; the world was inventive and exciting, the characters were well-developed and realistic, the literary references within the story and also the quotes at the beginning of each chapter added a depth that was unexpected in this sort of series, and overall the Shadowhunter world that Cassandra Clare has created is unlike any I have read about before.
I'm unsure whether I will be picking up the Mortal Instruments series as I have heard very mixed things about it, but I would definitely recommend this prequel series even if you have read nothing else by this author.