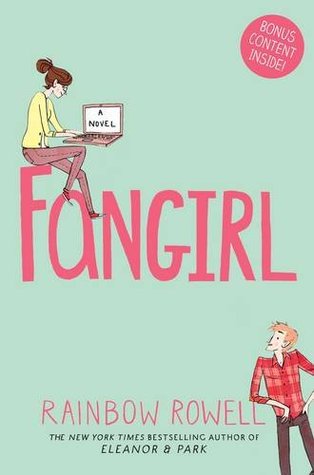 After reading Rainbow Rowell's Landline I just had to read more by her and since the only other book by Rowell that I own is Fangirl, that's what I read next!
Fangirl is everything that you want from a contemporary novel; cute, funny, nerdy and heartwarming.
The Simon Snow aspect, which is unusually similar to Harry Potter, made me really connect to the characters and the storyline. Unlike some people that I have read reviews from, I wasn't too bothered by the excerpts of the fanfiction and Simon Snow books in between each chapter; it made me understand Cath's love for the series.
I loved how organic all of the relationships in this book were. They just felt like they were very realistic and again it made me connect to the book a lot more. I really enjoyed the romance and I think that the love interest is one of the most well-rounded male leads I've ever read about.
There are so many reviews of this book on the internet at this point that it feels kind of redundant adding to that conversation but I just have to say that overall I would thoroughly recommend this book and it is the kind of book that I imagine I will be buying for a lot of people's birthdays and Christmases as gifts.
This book is absolutely perfect for those of you who know, as I do, what it is like to grow up with a fandom like Harry Potter and to suffer through it ending. This brought back all of those feelings of growing up with such a passion for a fictional world and Cath reminds me so much of me that it was slightly unnerving, in the best possible way.