I had the amazing opportunity to interview Juliet West, author of the brilliant Before the Fall which I reviewed recently, and here are the answers!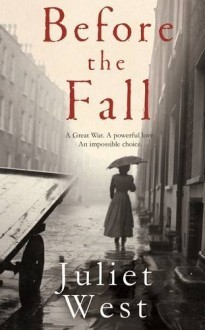 Hi Juliet! First things first, what first got you interested in becoming an author?
Hi Charlotte, and thanks so much for inviting me to your blog. I've always loved reading, but I wasn't very ambitious as a child and wouldn't have dreamt of aspiring to be an author. I wanted to be a nanny. But then I went on to study history at university, and after graduation I trained as a journalist, so I've been writing for a living since my early 20s. I didn't begin writing fiction until about ten years ago, after my third child was born. I felt incredibly inspired after reading 'The God of Small Things' by Arundhati Roy. Something just clicked and I thought 'I want to try this'.
What inspired you to write about this particular story? Did you find the true events first or did you find it during your researching stage?
I was inspired by the true events. I first came across the story of Annie Baker when I was working for a newspaper in London back in 1996. Annie was a young mother whose husband was fighting during the First World War, and while he was away she fell in love with another man. I co-wrote a feature which appeared under the headline 'A wife at home, a soldier at the Front, and a terrible betrayal'. The story – and its dramatic end – was so shocking that it haunted me for years, especially after I had children of my own. It would have been easy to judge Annie, but I wanted to attempt to re-create her world, to imagine her struggles, and I felt that I might be able to do that in a novel.
From a reader's point of view it is always difficult to know how much is fact and how much is fiction when a book says 'inspired by' true events. Proportionally, how much of Before the Fall would you say is fact/fiction?
All the key facts are unchanged, for example, the characters' ages, their jobs, where they lived, how they met, and especially the terrible events that played out in July 1918. In the book, I've included police reports and witness statements which are edited versions of the real documents. I've also tried to remain true to the historical events of the time, for example the munitions factory explosion in Silvertown in January 1917, and the German air raids on London.

However, I decided to change the names of the 'real' characters involved, as I felt this gave me more freedom to explore their personalities and inner thoughts, as well as to invent backstories and friendships which were not mentioned in any official documents. So, Annie Baker became Hannah Loxwood, and her lover Richard Luck became Daniel Blake. Hannah's best friend Dor is invented, and Daniel's employer Lady Tolland is also fictitious.
The majority of reviews I've read about Before the Fall use words like 'poignant' and 'compelling'. Was there a specific sort of feeling you were going for when writing this novel or did the subject dictate the atmosphere?
Definitely, the subject did dictate the atmosphere. I hope there are some lighter moments, for example the early scenes between Hannah and Dor, but I always knew how the story would end, so ultimately it is quite a dark novel. In life I'm a fairly cheerful, optimistic person, yet I seem to be drawn to bleak or unresolved endings in fiction. 'The God of Small Things' is a good example, but I also love anything by Richard Yates. Another two wonderful books I've read recently are 'The Woman Upstairs' by Claire Messud and 'Life Drawing' by Robin Black. Bleak but brilliant.
Having read the book, I can now understand the meaning of the title, but in a non-spoiler way, could you explain the process of choosing this particular title for Before the Fall?
I hope the title works on a number of different levels The book opens in July 1918 with a man falling (well, jumping) in front of an underground train. It then tracks back to September 1916 and follows the events leading up to that first scene.

The title also hints at the notion of a 'fallen' woman, and also Hannah's fear of the river as she crosses the Docklands bridges. I talked through many possible titles with my agent, but this was the one we both liked best.
With this being your debut, are there any habits you got into during the writing process that you think you will adopt with the next novel? For example: copious amounts of tea? Breaks every hour?
With three children and a part-time job, I didn't have a definite regime while I was writing Before the Fall. Every week was different! But usually if I have a writing day, I'll drink a couple of cups of coffee in the morning, one cup of tea in the afternoon. I eat elevenses, lunch and afternoon cake/biscuits. I can't claim to be one of those writers who is so lost in their work they forget to eat! So I do take quite a lot of breaks, but I try to keep the novel in my head while I'm away from my desk. If I'm thinking about the scene, I reckon it still it counts as work!
You've won and been nominated for several literary awards such as the Kate Betts' Memorial Prize and the Myriad Editions novel writing competition. Do you think that these have effected your writing in any way?
Oh definitely! I couldn't claim that awards have affected my writing style, but in terms of confidence, they are priceless. It was such a huge honour to win the Kate Betts Memorial Prize from Chichester University in 2010 (for the record, I won the award jointly with my MA colleague Amanda Oosthuizen).

When the opening chapters of Before the Fall were shortlisted for the Myriad Prize in 2012, I was just so thrilled. I'd already been working on the novel for over a year, but I was only around a third of the way into the first draft. So to have that validation at a relatively early stage was amazing, and helped motivate me to finish the manuscript.
Is there any advice you would give to aspiring authors?
You've heard it before, but read as much as you can. Novels, poetry, short stories – different genres, contemporary literature, classics. Some people worry that if they read other writers they will unwittingly copy that style, but I really think that if you're reading widely enough, this won't be a problem. I've learnt a lot from reading book reviews, too. Of course it's only ever one reviewer's opinion, but to see a book dissected and discussed can be really illuminating. The Guardian's Review section on a Saturday is excellent.

In terms of actual writing, set yourself small, achievable challenges, for example to write 300 words, five days a week. If you can keep that up, you'll have a novel in no time!
Lastly, do you think you'll write another novel based on true events? What were the difficulties with basing your novel on a true story?
I'm working on my second book, and I have to say I'm enjoying the freedom of making everything up from scratch. Book 2 set in London and Sussex during the summer of 1935, so the historical elements and the setting are 'real', but the characters and the storyline are fictitious. My original ideas have completely changed and it's turning out to be very different to the book I thought I was going to write. I'm not really sure if that's liberating or terrifying!

When I was writing 'Before the Fall', I was very conscious that the book was based on a true story, so I did want to be as faithful as possible to the actual events. This was helpful in some ways, as I always knew how the story would end, but of course it could also feel restrictive. At times I did want to change the ending – to write what I wished had happened – but that would have been a completely different novel.
I really enjoyed learning more about Before the Fall straight from the author after reading it as it is one of my favourite books of the year so far and I can't wait for more people to read it now it has been released into the world!
Before the Fall was released today so if you would like to purchase a copy of this book, please click the image to get sent straight to the Book Depository, and if you would like to check it out on Goodreads, click the link here!